Avengers Music:
A bit of music trivia: the Avengers Theme music is also known as: The Shake (1965) by the Laurie Johnson Orchestra.
New Avengers Related Items:
Fans of Laurie Johnson's music may be interested in his newly-published autobiography, Noises in the Head. The Avengers, New Avengers and Professionals are all given coverage including previously unknown production details along with all the other major projects Laurie has taken part in over his long career. The book is published by Bank House Books www.BankHouseBooks.com and should be available to order from them direct. A paperback version will be released soon. You can also order it from Amazon UK and Amazon US.
(Thanks to Bank House Books for permission to use the cover scan)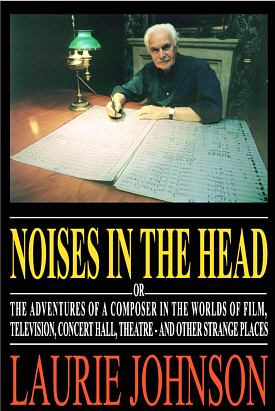 From the Inside Flap
Laurie Johnson: Composer and Producer. His music is known worldwide: The Avengers, The Professionals, This Is Your Life, Dr Strangelove, concert works, stage musicals and much else. What is not well known is his role as a producer and the fact that he is also co-owner of Gainsborough Pictures and the first independent British television production company, which made The New Avengers and The Professionals, in addition to composing the music for them. He tells of the background to those award-winning series, the casting of which made household names of their stars.

Laurie Johnson has worked with some of the greatest talents in the entertainment industry – Stanley Kubrick, Sir Peter Ustinov, Lord Bernard Miles and Lord Lew Grade; writers Lionel Bart, Herbert Kretzmer, Peter Cook and Dame Barbara Cartland; actors Sir Harry Seacombe, Peter Sellers, Joanna Lumley, Dame Diana Rigg, Sir Spike Milligan, Beryl Reid, Kenneth Williams and James Coburn; also cinematic special-effects innovator, Ray Harryhausen.

He also writes of his legendary composer friends, Bernard Herrmann and Miklós Rósza, along with musicians, Ted Heath, Jack Parnell and Benny Green. Laurie Johnson founded the London Big Band, which contains most of the greatest jazz and orchestral musicians in Britain.

Noises In The Head is the story of a unique talent and a unique life, told with humour and humility.

Special Avengers Investigations Note: After a question about 'who' sang the song "Mein Liebling, Mein Rose"™ in "The Joker", an investigation followed. Dave from www.bankhousebooks.com contacted Laurie Johnson and a response from Mr. Johnson followed:

And here's the answer from Laurie on the Carl Schmidt song:
Laurie Johnson composed the tune, Brian Clemens wrote an English lyric and Leo Birnbaum, a viola player in the orchestra, translated it into German. The title was "Mein Liebling, Mein Rose"™. For the recording session Mike Sammes of the Mike Sammes Singers fame, took on the persona required for this musical subterfuge.

Strangely enough, the impact of the featuring of the record in that one episode resulted in the necessity to release a commercial 45 record of the song. Fans from all over fell under its strange spell. Even Kim Novak wrote to Laurie Johnson, from the States, requesting a copy of the dastardly confidence trick. From start to finish, the song and recording had to be accomplished in a matter of days to be ready for the episode. The name "Deutsche Phon"™ was a fictional record company name thought up by Brian Clemens for the label.

Visit the Primo source for Avengers music and sound effects!

The Avengers Sound page by Linus Törnquist. A huge site for Avengers sound clips.

A Chorus of Frogs (Sounds like the Avengers) - Mobile phone tone downloads and sound files.

Spy Bop Royale! Check out a site with a lot of information of spy based music.

Television Tunes http://www.televisiontunes.com/index.html Here is another site with downloadable Avengers and other music.

CD's with Avengers Theme music:

The Easy Project - Featuring The Shake (1965) by the Laurie Johnson Orchestra - Pye Records - David Platz Music, Inc. (MCPS)

Television's Greatest Hits Volume II (1986) - TeeVee Toons Records - Johnny Dankworth version

The Man From U.N.C.L.E. (1992) - Cult TV Classics - Laurie Johnson version - Silva Screen Records Ltd.

The A to Z of British TV Themes from the Sixties and Seventies (1992) - Laurie Johnson version - Play it Again

Mission Accomplished - Themes for Spies & Cops - (1996) Laurie Johnson version - RCA Music

The Cult Files (1996) - Laurie Johnson version - Silva Screen Records Ltd.

The 25th Anniversary Edition TV Classic Themes (1998) - Laurie Johnson version - Breakable Records

The Avengers - The London Studio Orchestra (1980) - Laurie Johnson (with the New Avengers Theme as well) - Varese Sarabande

Avengers & Other Top 60's TV Themes (1998) - Laurie Johnson version - Sequel Records (book insert has many references to other British theme music)

Others:

The Avengers: The Album - Music from and inspired by the Motion Picture (1998) - Marius de Vries - Warner Brothers

The Avengers: Music from and inspired by the Motion Picture (1998) - big ear music - DCC Compact Classics, Inc.

The Avengers: Chapeau Melon et Bottes de Cuir (1998) (French Remix) - East West French (CD)

Midi theme versions:
Avengers Theme (6k)
Avengers Theme from "Dead Man's Treasure" (20k) 2:54 - midi
Avengers Theme (Extended version) (35k)
Avengers Theme (Cathy Gale Version) (181k) - 1:13 - wav
New Avengers (Darren Smith) Theme (36k)
Avengers midi versions from TV's Greatest Hits by Neil Strawbridge:
Avengers theme (39k)
New Avengers (Cresendo) Theme (48k)
Avenging Taglines! http://www.new-gallery-of-art.com
A place for a huge collection of audio and video clips of Avengers and more!
Avengers music: http://www.new-gallery-of-art.com/goodies_music.htm
Avengers taglines: http://www.new-gallery-of-art.com/goodies_taglines.htm
Note: Since many of the music selections will be found on the Avenging Taglines site, The Avengers Soundpage, and others, I will be discontinuing many of them on mine.
Wav theme and incidental versions from The Avengers Soundpage by Linus Törnquist at: https://members.tripod.com/avengers_soundpage/.
Avengers Themes Emma Peel B&W Title Theme and Emma Peel B&W Epilog.
Avengers Themes Emma Peel Color Title Theme and Emma Peel Color Epilog.
Avengers Theme from "Dead Man's Treasure" made by Kristen Gielecki (19.5k) - 1:40 - midi
Emma's Theme (87k) - 0:35 - wav
Dead Man's Treasure Theme (29k) - 1:40 - midi
"Never, Never Say Die" radio music (577k) - 0:27 - wav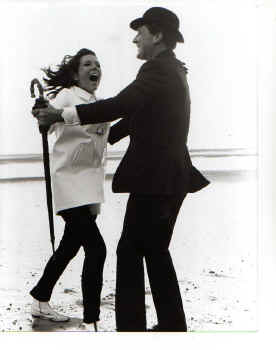 View My Guestbook
Sign My Guestbook
To view the previous Guestbook entries.
R. Cal Westray, Jr.
Revised: January 29, 2009.