Intra-national Man of Leisure of this modest tribute site.
"Extraordinary crimes against the people and the state, have to be avenged by agents extraordinary. Two such people are: John Steed, top professional, and his partner, Mrs. Emma Peel, talented amateur. Otherwise known as, the Avengers!"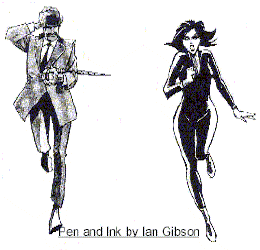 "Mrs. Peel, we're needed."
This page is lovingly dedicated to the TV series "The Avengers" and to all fans of this wonderful show starring Patrick Macnee, Dame Diana Rigg, and a host of others. Follow the links to sites designed as tributes to this incredible program. Check out the cast and broadcast page, Avengers Calendar of Events, Avengers links, The New Avengers, and the Avengers Sound page. Before you leave, please sign my guest book or email me with any comments or reactions to my site. Check out the TV Banner... Thanks!
Note: If you watched "The Weakest Link" on July 2, 2001, one of the questions was: "In what British television show were the characters: John Steed and Emma Peel?" Of course the contestant, Nathan, answered the question correctly. "The Avengers." I believe a similar question was asked on "Who Wants To Be A Millionaire?" It does my heart good to see that the program still gets attention, even if it is in the context of a trivia game show.
What is the Avengers?
The Avengers is a British: action, adventure, comedy, science fiction, and spy television program. It is all this and more. It has style, sophistication, and savoir faire. To coin an overused cliché: It was decades ahead of its time. There were other programs in that same genre that were just as well known: I Spy, The Man From U.N.C.L.E., Mission Impossible, Secret Agent, and The Saint. But what set it apart from others of that era?
Note: I recently contacted Dr. Will Miller for his interpretation of the Avengers. (Dr. Will is the psychotherapist for Nick-at-Nite as well as the nationally syndicated Bob & Tom Radio Show. He is the author of the book "Why We Watch: Killing the Gilligan Within". Learn how to diagnose like a real therapist right from your television! Dr. Will Shows you how! Also, read about Classic TV, Dream Interpretation and other relevant matters.) His interpretation of the Avengers is as follows: "Revenge doesn't have to sacrifice civility. I will bring justice down upon your sorry head without stooping to your level or soiling my impeccable clothing." That's a fair cop, Dr. Will!
Why the Avengers?
I was in my teens during the first broadcast of the Emma Peel series. Like all impressionable males, I was smitten by the bombshell of the time. With me, it was Diana Rigg. Sure, there were many others that could have been my choice. It was the 'mod' era and there were numerous beautiful women who lit up the screen with their presence.
I remember many other beautiful actresses from around the 60's: Joey Heatherton, Joan Collins, Lynda Carter, Loni Anderson, Anne Francis, Barbara Feldon, Elizabeth Montgomery, Tina Louise, Dawn Wells, Stephanie Powers, Rachel Welsh, Gina Lollobrigida, Jill Ireland, and most of the Bond girls to name a few. There are websites that are tributes to all of them and deservedly so. Most of them still look great decades later.
But it was the razor's edge beauty, the fighting skill, the acting talent, the self-assured femininity, the poise, and the seductive voice of Diana Rigg as Mrs. Emma Peel that held me fast! There seemed to be nothing she couldn't do. If she had the additional help of today's special effects, wow! Need I say more? She epitomized everything British, contemporary, fashionable, dangerous, and desirable. Many action based actresses today are designed from Mrs. Peel, whether they admit it or not. Watch for the sensual cat-suit, the extreme martial arts, and the cold analytical approach to solving a problem and you will see it clearly. Even Dana Scully is Mrs. Peel in a business suit. Try to deny it, but the "X-files" is a darkened 90's version of the Avengers. It has the same type of following and for the same reasons. "Dark Angel" is a bio-engineered version of Mrs. Peel. These programs discovered what works and they go with it - in 'spades'!
"Spy Game" was an Americanized Avengers re-made and it was cancelled without a real chance on screen. Pity, because I truly enjoyed it. And it had appearances by Macnee, Robert Culp, and others - mixing genres with tongue firmly planted in cheek.
I missed the original broadcasts of the Cathy Gale series entirely (starring Honor Blackman), until they were rebroadcast by A & E Television. They were excellent, but I am glad I saw it at this time and not as a youth. It wouldn't have held my interest then. I watched the Tara King series (starring Linda Thorson) with great expectations. It was very good, but not what I expected. Also, I am glad I watched it later in life.
The New Avengers was also very good, but was always broadcast late at night on the CBS Late Night Movie. A lame enough time to kill ANY program. Not even "Columbo" or "Diagnosis Murder" could have survived that schedule! I enjoyed Joanna Lumley as Purdey and Gareth Hunt as Mike Gambit. I think that the series should have been redesigned to have Steed as a new 'Mother' type figure with the other two doing all the footwork. Almost like a "Nero Wolfe" style program. Instead, they cast Steed as the central action figure and the other two were almost window dressing. Steed was good in it, but the formula doomed the series itself. It could still work if handled in that manner, but I doubt if that will ever happen.
The fans don't want to see Steed grow old, any more than James Bond. Sean Connery has always been my favorite Bond, but he is physically getting too old for the type of action Bond is expected to face. The same with Patrick Macnee as Steed. This is the harshest reality to face.
The Avengers Movie (Saving The World In Style?):
I have a short rant page about the Avengers movie that will cover everything I have to say about it.
Back to: Why the Avengers?
My site isn't about the movie, only the TV series. Again. Why the Avengers? Peel's partner, John Steed is a gentleman dandy, a modern day Scarlet Pimpernel. Immaculately dressed, he fought crime with style and drinking champagne to celebrate anything. It is easy to forget who was the main character of the show when Diana co-starred. But with the others, there was no doubt that Patrick Macnee was the lead character. Steed was the undercover agent who pursued the diabolical mastermind with dogged determination and flair. And thoroughly enjoyed every minute of it.
Occasionally, Steed took the situation seriously. (After all, he does have a long reputation as a cool operator and smooth assassin. "Ask Mrs. Peel, I haven't killed anyone all week!") And 'only' when his partner was in deadly danger. The occasion that stands out in my mind where he was in deadly earnest was in "Hostage", where Purdey was held in exchange for information. By one of the Ministry's own agents - a traitor! It wasn't the information that was important, it was discrediting Ministry agents and Steed was the prime target and viewed as the traitor himself. And it was the only time that Steed 'appeared' to be at his wit's end and it came off as very real.
It was only one of many examples of misdirection used in the Avengers story lines. Although Steed was a maverick or a lone gunman, he played the game 'his' way. Of 'all' agents, Steed was constantly made to appear the prime suspect or traitor - but he always cleared himself in the end. In the end, the spy training book was rewritten in the 'Steed way of doing things'. As told by Tara King in "The Forget Me Knot", although she may have been exaggerating a bit. This, from an agent who carried a brick in her purse.
All in all, it was a thoroughly enjoyable show. Plenty of plot twists and turns, but none of the blood and gore. The perfect blend of absurdity and seriousness. Light hearted 60's, not the dark and grim 90's.
If you watched Austin Powers, you understood the flair of the mod, go-go, and day-glo era of the 60's. It wasn't Austin himself that made Mike Meyers' movies enjoyable, it was the 'mindset' of the time - and then giving it a little push over the edge. The comparison of Austin Powers and the Avengers has often been made and with good reason. Austin Powers, like the Avengers, was a surreal visual trip - complete with the diabolical masterminds or Evil Overlords. And everything tied together in a nicely wrapped present for our enjoyment.
As absurd as it may sound, Austin Powers was closer to the TV Avengers than the movie Avengers. Flashback... I just had a mental image of Steed and Mrs. Peel facing Dr. Evil (and Mr. Bigglesworth). Not a stretch of the imagination at all - just a little push. Wonderful!
Well, learn about the Avengers for yourself. Thanks for visiting my site. Follow the many links and discover the mystique that is "The Avengers". Better yet, find some of the videos and watch some of the episodes. Then enjoy!
Cheerio!
Order "The Avengers" Calendar at CalendarMart!


"Bookmark this site now!"
And now for the Avengers disclaimer.


View My Guestbook
Sign My Guestbook
To view the previous Guestbook entries.
R. Cal Westray, Jr.
Revised: September 18, 2013.