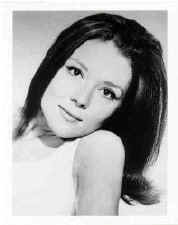 Enid Diana Elizabeth Rigg:
Actress - portrayed: Mrs. Emma Peel in the 1960s English TV spy series The Avengers.
Born: July 20, 1938 in Doncaster, Yorkshire, England
Significant Other(s):
Husband: Menachem Gueffen, an artist; July 6, 1973 - 1976 (divorced)
Husband: Archie Stirling, a businessman; 1982 - 1990 (divorced)
Family:
Father: Louis Rigg
Mother: Beryl Rigg (née Helliwell)
Daughter: Rachel Stirling; father Archie Stirling
Stage Debut: Natella Abashwili, "The Caucasian Chalk Circle," Royal Academy of Dramatic Art production at the Theatre Royal, York Festival, 1957.
TV Debut: Adriana, "The Comedy of Errors," BBC, 1964.
Awards: Antoinette Perry Award nominations, 1971, for "Abelard and Heloise" and 1975, for "The Misanthrope."
Contact information:
London Management, 235 Regent St. London W1A 2JT

Beyond portraying Mrs. Peel, Diana Rigg was known for playing many other parts. On stage and on screen, she is still elegant and talented. Currently she hosts "Masterpiece Theatre". Follow the links to see how she has kept busy all these years.
Knighted in 1994. She is more properly known as Dame Diana Rigg, the female equivalent of the title "Sir" when knighted. In June 1994, she was made a Dame Commander of the British Empire by Queen Elizabeth II for her long contributions to theater and film.
Her savage review from John Simon for "Abelard and Heloise" led her to collect devastating theatrical reviews throughout history. The result was her book "No Turn Unstoned", published in 1982.
Rigg is Chancellor of Stirling University in Scotland.
Was recently voted the sexiest ever TV star by TV Guide in the USA.
Diana Rigg: The Biography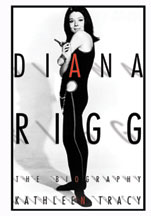 The first and only biography of the woman behind The Avengers' Emma Peel, one of America's most-loved television heroines and feminist icons.
Diana Rigg: The Biography gives readers a frank and honest look at the professional and private life of a star, a mother, a sex symbol and a Dame.
Dame Diana Rigg Links:
Dame Commander of the British Empire (DBE) Diana Rigg site by Stefan Kucinski.
Diana Rigg Filmography by IMDb
Where is Diana on TV this month? Check out TV Now!
Avengers Forever - Diana Rigg Biography by David K. Smith
Diana Rigg Picture Gallery
Swinging Chicks of the 60's featuring Diana Rigg
Interview in The New Zealand Herald. Diana Rigg on Emma Peel.
JSR Pages Diana Rigg Biography by John Robinson.
StarPulse.com Diana Rigg page.
TriviaTribute.com Diana Rigg site.
Diana Rigg Gallery on Retrocrush.com.
Avengers Web Discussion Groups:
Join the Suburbia Avengers discussion Group at: http://suburbia.com.au/mailman/listinfo/avengers
Participate in web discussions on TheAvengers.TV International Forum.

Yahoo! Groups: Avengers_at_Suburbia. Owner is CalWestray.
Yahoo! Groups: 3_Stable_Mews. Owner is he_who_whispers.
Yahoo! Groups: The Ministry of Riggism.
Yahoo! Groups: JLC's_Avengers. Owner is Jennifer Coffin.

Yahoo! Groups: QuiteQuiteFantasticAvengers. Owner is Michael Phillips.

Yahoo! Groups: Avengers1960sFanClub. Owner is sputnik spooner.

Yahoo! Groups: TheSecretAvengers · The Avengers: The Classic 60's TV Show. The Avengers . . . just for the sheer love of it. Particular focus is given to the relationship between John Steed with both Cathy Gale and Emma Peel. Owner is thenakedspy and Moderator is megastarlite.

Dame Diana Rigg Photos:

Diana from Her Majesty's Secret Service in black and white.


View My Guestbook
Sign My Guestbook
To view the previous Guestbook entries.
R. Cal Westray, Jr.
Revised: January 29, 2009.