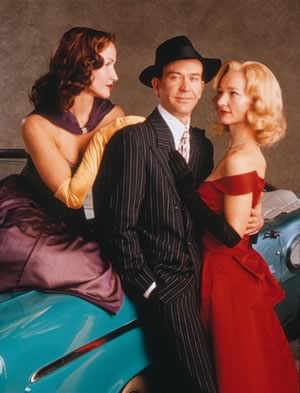 "Archie, report!"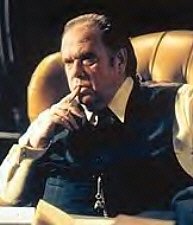 My perspective on Nero Wolfe:
It is a detective show based on the novels written by Rex Stout. It was a TV show in the 80's with William Conrad and Lee Horsley, done to a modern 80's theme. Big mistake.

A&E redid it with more authenticity to the original stories with Maury Chaykin and Timothy Hutton. The A&E version is superior in every way to the earlier TV show. Including the fabulous old vintage cars, beautiful clothing styles, and colorful language and attitude of the time.

About Nero Wolfe, he's an overweight genius eccentric detective with a fixation for orchids, quality food and beers. He doesn't like to leave his N.Y. Brownstone manor, doesn't like being touched, doesn't like women or men who are afraid of women, sticks to a beyond-rigid daily schedule, and is easily irritated at any variation in his routines and behaviors. Likeable, but not someone you would like to hang out with. A general pompass ass.

The show is portrayed from the point of view of his personal secretary, investigator, and heavy handed operator Archie Goodwin. Timothy Hutton does a great job portraying Archie (a fellow Ohioan), who does the research and investigations, he reports the information to Nero, Nero then assembles the details to solve the crimes. Usually, he assembles the suspects and police to his office to interview and expose the criminal. Archie has a habit of drinking milk and eating pies when he is on assignment. He likes womanizing, but specifically with those who are great dancing partners. A fun person to hang out with and thoroughly likeable. His performance makes up for any other role he ever performed in.

They have a standard cast of characters who are rotated for use as suspects, victims, etc. but there are a few characters who are only one character through the entire series.

Some very good characters are Inspector Cramer, played by Bill Smitrovitch and Fritz the butler/chef played by Colin Fox, and Saul Panzer played by Conrad Dunn. Saul is my second favorite character after Archie.

A&E stopped running the episodes after the second season, because it didn't gain a huge following. Pity. If you get a chance to see an episode, do it, it will be well worth your time!

mp3 theme versions:
Nero Wolfe Theme 1981 - John Addison version for the earlier run TV program. (128kbps - time 1:01) IMDB Listing for Nero Wolfe in 1981: http://www.imdb.com/title/tt0081906/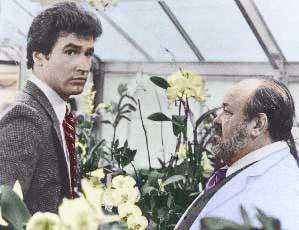 Order "Nero Wolfe" Season One on DVD at A&E!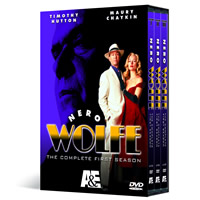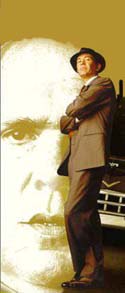 Nero Wolfe Web Discussion Groups:
Participate in web discussions on your favorite detective.
Yahoo! Groups: nerowolfe. Moderators are flummery210 and marileedvs and nerophiliac.
Yahoo! Groups: Pfight. Pfui Pfighters! This group provides material for organizing a campaign for the return of Nero Wolfe.
Yahoo! Groups: archiegoodwin. Owner is unknown.
Yahoo! Groups: ArchieFF. Owner is cindyryan7.
Yahoo! Groups: Timothy_Hutton.
Yahoo! Groups: GADetection.
MSN Nero Wolfe community.
Colin Fox / Fritz Brenner Group.
Conrad Dunn / Saul Panzer Group.
Maury Chaykin / Nero Wolfe Group.

Nero Wolfe Sites
Nero Wolfe scripts: http://www.lgoldberg.com
Save Nero Wolfe on A&E!!!
http://www.personalephemera.com/nero/
Pfight Group DVD FAQ - important information about Nero Wolfe DVD's.
The Wolfe Pack at nerowolfe.org.
Join the Wolfe Pack at http://www.nerowolfe.org/htm/mbrship/mbr.htm.
The Wolfe Site at nerowolfe.net.
Avenarius' Book of Quotations http://avenarius.sk/stout/

AUSTIN LAYMAN'S CRIMESTALKER CASEBOOK™
Founded in 1997 by Andrew McAleer and Edgar Allan Poe award-winning author, John McAleer, Austin Layman's Crimestalker Casebook (ALCC) is a semi-annual crime fiction publication of traditional mystery short shorts and P.I. stories. ALCC is named in honor of John McAleer's protagonist, Austin Layman, who appears in the critically acclaimed Coign of Vantage: The Boston Athenĉum Murders (Foul Play).
http://www.crimestalkers.com/
Jump the Shark - Has Nero Wolfe jumped the Shark? Negative! It never jumped on A&E. http://www.jumptheshark.com/n/nerowolfe.htm
Episode Guides
http://epguides.com/NeroWolfe_2001/
Nero Wolfe Character Search
http://www.cs.rit.edu/~lac/nero/charsearch.html
IMDB Listing for Nero Wolfe on A&E
http://www.imdb.com/title/tt0283205/
Nero Wolfe & Archie Goodwin at Home
http://johnclaytonsr.com/Wolfe/index.htm
Wolfe World with Message Board
http://www.wolfeworld.8m.com/
Merely a Genius - Wonderful Wolfe Site - Winnifred Louis's most satisfactory compendium of information on the texts, Wolfe's own reading list, Wolfean pastisches, and pop-culture references.
http://www.geocities.com/Athens/8907/nero.html
The Wolfe Pack - Nero Wolfe Awards
http://www.hycyber.com/MYST/NW_awards.html
Library Display - Ellery's display of Nero Wolfe material at the North Suburban Library, Loves Park, Illinois in March 2002.
http://entwold.home.att.net/ellery/
Three Office Sketches
http://www.things.org/~muffy/pages/books/rex_stout/office.html
ThrillingDetective.com with Nero Wolfe and Archie Goodwin
http://www.thrillingdetective.com/wolfe.html
The Wikipedia
http://www.wikipedia.org/wiki/Nero_Wolfe
Wolfe World
The floor plans of the Brownstone!
http://johnclaytonsr.com/Wolfe/Intro.htm

Rex Stout
Born December 1, 1886.
Interview with John McAleer - Rex Stout's biographer
http://readersroom.com/masters02.html
Interview with John & Andrew McAleer at Strand Magazine
http://www.strandmag.com/rexstout.htm

Maury Chaykin
Maury Chaykin at TV-Now - Maury Chaykin's Monthly TV Schedule
http://www.tv-now.com/stars/chaykin.html
Maury Chaykin: The Malaysia Fansite - Photos, interviews, biography, filmography.
http://www.geocities.com/maurychaykin/
IMDB listing for Maury Chaykin
http://www.imdb.com/name/nm0001999/

Timothy Hutton
Timothy Hutton Fan Page - All things Tim with a nice picture gallery.
http://www.geocities.com/Hollywood/Academy/7312/mainpage.html
Timothy Hutton at TV-Now - Timothy Hutton's monthly TV schedule at TV-Now
http://www.tv-now.com/stars/timhut.html
An Unofficial Timothy Hutton Website - Magazine articles, biography, photos of Hutton in Nero Wolfe and other stuff.
http://timothyhutton.bravepages.com/index.html
IMDB Listing for Timothy Hutton
http://www.imdb.com/name/nm0000459/

Other sites:
Murder.com a site for Murder mystery fans hosted by Cathe Ray.
http://www.murder.com/
Lee Goldberg, one of the "Nero Wolfe" writers, hosts a website that covers the various shows that Lee has written for. Under the Bylines section, there is "Mystery Scene - Writing Nero Wolfe Mystery Scene Dec. 2002" and more "Nero Wolfe" material to enjoy.
Visit the DVD Review site. Read the posted reviews of the "Nero Wolfe" DVDs and post your own reviews!
http://www.dvdtalk.com/reviews/read.php?ID=8001
Old Time Radio - Nero Wolfe online in mp3 format!
http://www.radiolovers.com/pages/nerowolfe.htm

Nero Wolf filming sites
Title: Nero Wolfe
Type: TV Movies & TV Series / A & E
Year Shot: 2000-2002
Production Company: Pebblehut Nero Services Inc / NW Production Services Inc
Place Represented: New York City, 1950s
Toronto Location(s): 2 & 4 Wellesley Pl, Rosedale Rd, Gladstone Hotel, Sultan St at St Thomas St, 90 Harbour St, Blue Sea Restaurant - 90 Queen St E, 61 Bin-Scarth Rd, Spadina House, St Joseph St at St Nicholas St, Casa Loma, High Park, Canary Grill - Front St E, Union Station, 10 Adelaide St E, 519 Jarvis St, Toronto Zoo, U of T - Victoria University
They also have a PDF document for older productions that includes the locations for The Golden Spiders (filmed in 1999): Christie Mansion, Gladstone Hotel, Pasquale Brothers - 217 King St E, Hearn Generating Station, St James Park, St Lawrence Hall, 10 Adelaide St E


If you know of more sites I can add, please email me.


View My Guestbook
Sign My Guestbook
To view the previous Guestbook entries.
R. Cal Westray, Jr.
Revised: January 29, 2009.