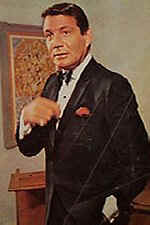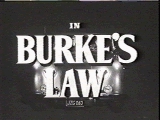 Sad news: Gene Barry died recently. He will be missed!
Date of Birth: 06/14/1919 - Date of Death: 12/09/2009 - Age at Death: 90
It's like losing an old friend...
Burke's Law:
Gene Barry appeared in "Burke's Law" - Amos Burke was a millionaire who was Chief of Police in the Homicide Division of Beverly Hills. He was chauffeured to each case by Henry in his gold Rolls Royce. His show was known for guest starring a host of celebrities - past and present. There was another series "Amos Burke, Secret Agent", to compete with other spy shows. His Rolls was still present but without Henry. "Burke's Law" was remade in the 90's (at the same time as "Diagnosis Murder"), but only lasted a year. I suppose it was mostly due to Gene Barry's health. A real pity, it remains one of my favorite programs.
From "Who Killed Mr. X?" there are a couple Burke's Law-isms that I thought were amusing.
"That's the way the body bounces."
To Elizabeth Montgomery... "Never drink martinis with beautiful suspects."
And one that even John Steed would agree with. When a body was found near the carrousel, Amos tells Henry... : "When duty calls, we horsemen have to ride."

My take on Burke's Law:
Burke's Law had a quirky approach and a different concept of detective programs. Their focus was on parading stars as guests, because they weren't busy on other projects at the time. It gave them a job between projects. They had interesting and different slants on ways and motives why people were killed. The killer wasn't easily identified and the clues were there for us to find out. It required *some* thought as to who and why.

They used humor a lot, with Burke's Law-isms and endless comedians for material. Silly, but effective. Probably even corny at times.

His partners were interesting and not always just background characters. Tim had unique hobbies and interests which usually played into the cases. Tim was always trying hard to keep ahead of the Captain by gathering all evidence that he thinks will be asked for, and usually missed only one angle - that made him a very human and likable character. Even Les was a bit Jack Webb like, from the old 'cop on the beat' generation. Uniformed policemen were seen as evidence gatherers, and solid officers of the law. There were no cases of police brutality, no corruption, and no policeman *ever* looked bad on the show. The police were always there to peacefully take in the murderer.

It was very simplistic in nature, but it was a program that was trying to glamorize: the ritzy lifestyle, detective work, and solving cases quickly and tidily.

The remake in the 90's came on at the same time as Diagnosis Murder. Both had a similar style, cast, and purpose. Both had their TV sons as partners in crime detection. Many guest stars were paraded and many murders were solved. The biggest problem with Burke's Law, was that Gene Barry's emphysema was becoming too pronounced and it was affecting his delivery. He just wasn't as young and healthy as he once was. He tried to do everything he did in the old days, but emphysema can affect the voice and endurance of a performer. Riding a horse on one episode probably wore him out horribly.

Another problem with it was that it fit too well in the 60's, but the viewer of the 90's didn't see it as timely enough - times change. If they tried to modernize it too much, it would have been even worse. People today are more ready for a CSI type of program. Cutting edge technology and cutting edge personalities.

Make no mistake, the humorous lines delivered by Gil Grissom in the opening scenes of CSI are straight out of a Burke's Law style, but delivered in a slightly different manner - and just as effective. I see Gil as a modern day Amos Burke, but not flashy. Not flashy at all. Gil is quiet, reserved, and observant. But Gil has a sense of humor that catches you completely off guard, quite refreshing as an actor. Both men focus on the facts and on what the facts are telling them. Nothing distracts them in their pursuit of the facts and the solution of the crime. Amos just investigates crime in suits and a gold Rolls. And Gil is in Vegas, where else can you see that much activity and style?

If the level of technology was the same in the 60's, Burke's Law would have been more like CSI, but with still more focus on the Hollywood lifestyle.

Back to DM, my favorite episode of Diagnosis Murder was 'Discards', where the young doctor's father was discovered to be a spy played by Robert Culp. They had Patrick Macnee, and members from Mission Impossible, and other spy programs. It was very nicely done and gave viewers a chance to see their favorites again. Diagnosis Murder is still going strong, and the public is still fond of Dick Van Dyke.

Gene Barry's health was the biggest factor in the 90's programs demise, and there weren't enough fans from the original program to support it in the ratings.

Some of the better ones on today are CSI, CSI: Miami, and Monk. There are others on today that I wouldn't waste time channel surfing on, but I would stop and watch some of the old favorites.

Wav theme versions:
Burke's Law Theme (63-65 intro) (120k)
Burke's Law Theme (63-65 closing) (80k)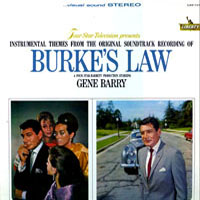 An extended version, "Burke's Law Suite" can be found on a CD. "TV Town - Ultra Lounge Volume 13" is played by the Liberty Soundtrack Orchestra. Has "Burke's Law Theme" (Gilbert), "Meetin' At P.J's" (Marks), "Blues for a Dead Chick" (Mullandro), and "Burke's Beat" (Gilbert-Freeman) - recorded 1964.

Links:

The Official Gene Barry Page of Burke's Law by Nan Jarrett and Glenda Moore. Follow the career of Gene Barry. (Who hasn't seen the 1953 movie "War of the Worlds"?) Also check out Burke's Law-isms. The best of the tribute sites!

IMDB.com's link to Burke's Law:

http://www.imdb.com/title/tt0108715/

TV.com's link to Burke's Law:

http://www.tv.com/burke-s-law/show/466/episode_guide.html

TV.com's link to Burke's Law in 1994:

http://www.tv.com/burkes-law-1994/show/673/episode_listings.html

Did Burke's Law ever Jump the Shark? Give them your opinion and search for other shows!

Peter Barton's by Angels Luv-Tawyea or her other site Magick. Burke's Law site.

epguides.com presents Burke's Law (1963-1966) by George Fergus.

http://epguides.com/BurkesLaw_1963/

epguides.com presents Burke's Law (1994-1995) by George Fergus.

http://epguides.com/BurkesLaw_1994/

Burke's Law by Thom Holbrook.

Biography of Gene Barry by Barnes and Noble.

CyList guide to Burke's Law: http://www.cylist.com/List/400150348/
Crazy About TV's link to Burkes Law: http://www.crazyabouttv.com/burkeslaw.html