A remake of the Prisoner was on AMC.
http://www.amctv.com/originals/the-prisoner/
In November, AMC will present The Prisoner miniseries, a reinterpretation of the British 1960s cult hit series that starred and was co-created by Patrick McGoohan.

The Premise: A man, known as Six, finds himself inexplicably trapped in The Village with no memory of how he arrived. As he explores his environment, he discovers that his fellow inhabitants are identified by number instead of name, have no memory of any prior existence, and are under constant surveillance. Not knowing whom to trust, Six is driven by the need to discover the truth behind The Village, the reason for his being there, and most importantly -- how he can escape.

Jim Caviezel will play the role of Six; and two-time Oscar nominee Ian McKellen will co-star as Two.

The Prisoner miniseries is a co-production of AMC and ITV Productions; the deal was brokered by Granada International, which holds international distribution rights. Bill Gallagher serves as writer and executive producer, along with Michele Buck, Damien Timmer, Rebecca Keane, and AMC's Charlie Collier, Christina Wayne and Vlad Wolynetz. It is produced by Trevor Hopkins.
The Prisoner:
Patrick McGoohan was known for his "Danger Man" series in England, later became "Secret Agent" for American television. Then "The Prisoner" appeared. It is believed (regardless of any denials) that the main character in the first two shows, John Drake, is the same character in "The Prisoner", as Number 6. He definitely has the same character traits and views. Although Number 6 can be 'any' spy who got tired of the business and wanted out. The problem is, you just can't resign from some careers and you 'can't' leave the Village...
Village map in color (150k).
Village map in b/w (45k).
Midi themes:
Secret Agent Theme (27k)
Prisoner Theme (14k)
Prisoner Theme (34k)
Wave snippets:
Where am I? In the village. (191k)
Who's side are you on? That would be telling. (39k)
Who are you? The new number two. (42k)
Who is number one? (54k)
Why did you resign? (36k)
What do you want? (97k)
Information! (89k)
You won't get it! (62k)
I am not a number, I am a free man! (173k)
Where am I? In the village... (475k)
I will not be pushed.... (42k)
I like to mind my own business. (36k)
I've resigned. (10k)
Be seeing you. (15k)
Orange alert! (25k)
Free to go! (140k)
Chime. (18k)
Good morning! (103k)
Rover. (132k)
Rover attack. (606k)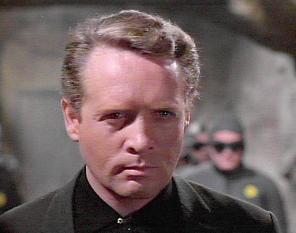 Prisoner Links:
Portmeirion, Wales. http://www.portmeirion-village.com/
Italian Prisoner Site at http://www.ilprigioniero.altervista.org/
The International Spy Museum is now open in Washington D.C. Schedule a visit!
The Prisoner - Number Six by Larry Hall. See the Prisoner Music Downloads - mp3 and midi.
The Prisoner Appreciation Society by Bruce Clark. Have you ever heard of the group "Six of One"? And NO I am not referring to Seven of Nine.
The Prisoner fan site - Unmutual Update.
Open Here! Links to the Prisoner.
Prisoner Page by Mark S. Glinsky.
The Prisoner - Information, Images, Rarities and More... by The Prisoner © Carlton International Media Limited.
Did The Prisoner ever Jump the Shark? Give them your opinion and search for other shows!
Fan page by RetroWeb Classic Television
The Village Person by Matthew Crowder
The Oddball Mall - The Village, a discussion group. Links to other Prisoner sites and soundtracks of the program. http://www.oddball-mall.com/the-prisoner/links.html
Reading between Designs - Visual Imagery and the Generation of Meaning in The Avengers, The Prisoner, and Doctor Who - By Piers D. Britton and Simon J. Barker.
Danger Man and the Prisoner Links:
Did Danger Man/Secret Agent ever Jump the Shark? Give them your opinion and search for other shows!
Danger Man and Secret Agent by Terry Canote.
Cult TV Net Directory with the following links to Danger Man.
Yahoo! Groups:

"Welcome to the Village, you 'won't' be leaving."
R. Cal Westray, Jr.
Revised: December 05, 2009.