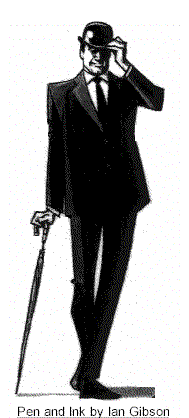 "Welcome to Amber, I am Steed, John Steed."
"This is my contact point for visitors to Amber. You may see me around as you journey through Amber or maybe somewhere in Shadow."
"Please join me for tea or perhaps a glass of wine. There may even be time for a personally guided tour. I'm between missions for the crown, so I'm at your disposal until I am needed again. Press the 'writings' button below and you will find a list of my personal journals. Within the pages of the journals, my allies and I face numerous 'diabolical masterminds'. You may even encounter a character that is familiar to you, like my favorite partner, Mrs. Emma Peel. Where is she, you ask? She's currently on a secret mission for Queen Vialle, very hush hush. I'm not at liberty to discuss it, yet. . ."
"If you are pressed for time, I understand. Stop by again anytime; but before you leave, please concentrate on my Trump image (click on it with your mouse), and leave me a message. My talented amateur and Shadow Earth agent, Cal Westray, will handle the details for me."
"See you around. . ."
Note: Steed is currently active in the Yahoo! Groups: amberlibrary - Amber Library.
Cal Westray also portrays Amos Hunter in the Amber campaign Blaze of Glory run by Sol Foster.


View My Guestbook
Sign My Guestbook
To view the previous Guestbook entries.

"Revenge doesn't have to sacrifice civility. I will bring justice down upon your sorry head without stooping to your level or soiling my impeccable clothing." -- Dr. Will Miller
R. Cal Westray, Jr.
Revised: September 18, 2013.